Equipment Cloud Analyser (ECA)
(Cloud Diagnostics, Prognostics and Protection of Electrical Motors and Driven Equipment)
Motor Failures Diagnosed:
Uneven air gap between the rotor and stator
Broken rotor bars
Damage to the Stator Windings
Insulation damage
Motor Bearings failures
Loose Foundation
Motor Overload
Current imbalance
Voltage
Etc.
VFD Drive Problems Identified:
Power supply quality,
Voltage imbalance,
Common Mechanical Equipment Problems Identified:
Bearings (rolling)
Bearings (thrust)
Bearings (sleeve)
Gears
Out of balance
Shaft Misalignment
Loose Foundation
Coupling wear
Belt slippage
Inefficient operation
Damaged/impacted impeller
Cavitation
Eccentric impeller, blocked impeller
Seal damage/leakage
Etc…
The ECA system continuously monitors and protects induction and synchronous motors and their driven rotating equipment.  ECA "learns" the performance and health characteristics of the monitored equipment that it monitors and provides;
advance warning of incipient failures,
failure root cause differentiation,
predicts time remaining to time where repairs will be necessary,
stops the motor and driven equipment in emergency conditions (optional),
Audits electricity consumption.
The early detection of equipment disturbances reduces the cost of corrective maintenance. This system allows a user to avoid unexpected outages, to schedule corrective maintenance in a planned manner and to reduce equipment downtime.
ECA Concept for OEMs
ECA provides equipment manufacturers with a unique opportunity to build their own diagnostics & prognostics centre for after sales service of its products.
This service will provide an OEM with significant market advantages and will allow for extended product warrantees.
PSE is a sole supplier of a full set of hardware and software supporting OEM's center for remote monitoring of its products.
Equipment Protection
ECA includes direct links to Equipment Programmable Logic Controllers or to local control network.  Such a configuration supports the emergency stop of a piece of monitored equipment. According with system settings in can be done with or without confirmation of equipment operator.
Auditing electricity consumption
ECA measures electricity consumption and cos Fi for every piece of monitored equipment. The accurate auditing of electricity consumption avoids inefficient operation of monitored equipment and provides energy saving.
ECA tracks developing faults and provides alerts ranging from early fault development to accelerating fault development to a prognostic of time remaining to failure as illustrated above.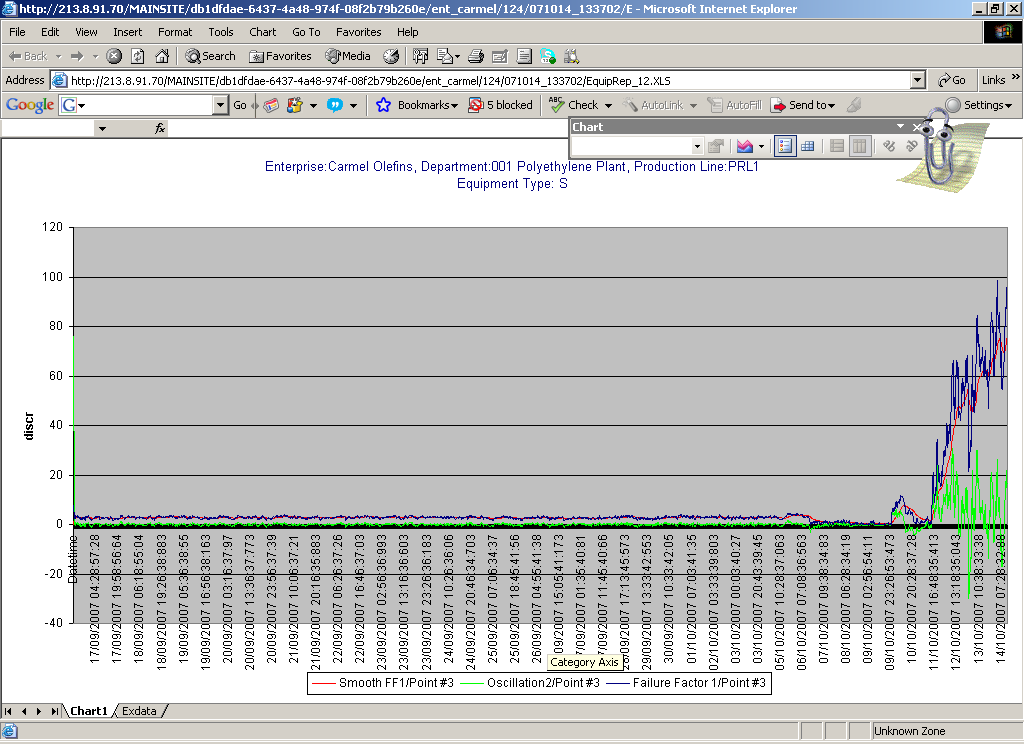 ECA Data Acquisition
ECA has a diversified structure supporting the use of multi-disciplinary data acquisition instrumentation on drives utilizing;
AC induction motor,
AC synchronous Motor,
AC wound rotor Induction Motor.
Electrical motors and VFD monitoring diagnostics instrumentation;
Electrical motor split core transformers, burden resistors and three phase current transducers
Voltage transformers with galvanic separation of motor voltage from input to the diagnostics devices and potential transducers.
Phase angle, active and passive power measurement means.
PT 100 adapters for use with embedded temperature probes.
High Voltage Insulation monitoring by detection  of Partial Discharges
ECA Data Acquisition measures/diagnoses :-
RMS values of both current and voltage.
Motor load.
Misalignment or unbalance.
Bearing failures
Current and voltage unbalance.
Stator core damage. vi.
Stator inter-turn faults.
Rotor bar health.
Static and dynamic eccentricity.
Real, reactive and apparent power
Crest factor for both voltage and current.
Harmonic distortion.
Curtosis Factor for Current and Phase Angle
Total harmonic distortion for both voltage and current.
Power factor
Efficiency
Volts/Hz ratio.
The Electrical motor data acquisition provides filtering and programmable amplification of signals, supports monitoring of all types of motors with any current and voltage in steady state or transient (motor start) modes.
PSE advises a customer what components of motor diagnostics instrumentation are optimum for his application and supplies the appropriate sensors.
Electrical motors and VFD monitoring diagnostics instrumentation is located in Motor Control Centre, MCC, or in stand alone electrical cabinets.
OEM applications are provided with OEM specific version of motor diagnostics instrumentation.
Vibration measurement instrumentation
ECA implements PSE Smart Wireless three axial accelerometers.  Accelerometers, velocimeters, shift proximity probes of other vendors already  installed on customer equipment are incorporated by PSE Smart wireless adapters.
Audio signal measurement instrumentation.
ECA data acquisition system includes audio smart wireless sensors with microphones having band range up to 25kHz.
Acoustical emission measurement instrumentation.
ECA implements a family of PSE smart wireless AE sensors with band range 40-100 kHz, 100-250 kHz and 100-800 kHz that are used for detection of incipient disruptions in friction pairs, liquid and gas leakages and detection of mechanical cracks and partial discharges in high voltage equipment.
Data acquisition of process parameters.
The proper differentiation of equipment faults requires knowledge of parameters of processes that monitoring equipment is involved in.
ECA is interfaced with PI Control Historian of OSIsoft Inc. that provides on-line values of process temperatures, pressures and other parameters.
ECA also includes PSE wireless adapters for connection to process sensors having outputs of 4-20 mA.
 ECA Smart Sensor Versions & Networking
PSE Smart Wireless Sensors are supplied in different configurations meeting specific customer requirements.
Power and other industries permitting RF signal connection can use PSE Smart Wireless 3D Accelerometers, Audio Smart Sensors, AE Smart Sensors and Smart Wireless Adapters for connection with plant existed Third Party Sensors.
Refineries, Petrochemical, Chemical, Oil & Gas industries operating in the explosive environment can use the PSE Intrinsic Safe Smart Sensors equipped with Power Line Communication modems or Intrinsic Safe RS485 networked sensors.
Mining Industry could be provided by Fibre Optics Data Communication.
Underwater operating Smart Sensors have water proof enclosure and can operate with embedded Power Line Communication modems.
ECA Optional Structure
Every type of data acquisition instrumentation has its preferable application areas.
Phase Angle diagnostics is very sensitive and detects minor disruptions in monitored equipment.
Phase Angle/Current/Voltage Diagnostics is indispensable for diagnostics of equipment with difficult access, submersible equipment, and cavity and canned pumps, etc. though some failures could not be diagnosed in the incipient phase of their development.
Vibration diagnostics has good diagnostics capabilities but cannot always be applied.
Audio and Acoustical Emission Smart sensors are very helpful for detecting incipient disruptions but for proper differentiation of failure root causes and prognostics of equipment residual time have to be combined with other sensors.
ECA comprehensive data acquisition system provides a customer with the best solution for cost effective monitoring of his equipment meeting customer's budget and equipment performance requirements.
Installation and Service
ECA instrumentation hardware could be installed by a local technician. PSE provides remote hardware installation support, software installation and commissioning.
Remote administration and diagnostics service of the monitoring system are provided under contract by PSE Ltd.
Cloud Monitoring Platform
Cloud diagnostics platform incorporates the local networked diagnostics instrumentation and equipment controllers, Cloud Diagnostics & Prognostics software and databases located on the Cloud servers, PSE information Site, alert generation and  upgrades to software and local server IT software.
The Cloud Monitoring Platform consists of:
Wireless sensor network connecting the diagnostics sensors installed on equipment and in MCC with PLC controllers.
Data acquisition software located on the customer site computer.
Middleware software for data transfer to remote central server,
eDiagnosticsWare – diagnostics, prognostics, protection software package, patent pending.
eReporter- the software package supporting automated failure analysis and operation of an Internet site, for on line reports of performance and health of monitored equipment.
Short status report with animated icons symbolizing the status of monitoring equipment. The short report provides the maintenance team with the evaluation of time when the machine has to be stopped for corrective maintenance.
Engineering report supplying the diagnostics of expected failures, diagnostics signatures and trends of main key indicators related to the failure.
eMessenger  – software package for automated eMail and SMS warnings of detected abnormalities.
Multiple Location networking
Import of other signal processing techniques
Modernization of analog data acquisition systems
ECA applications
ECA can monitor a wide spectrum of rotating equipment:
Pumps
Fans
Compressors
Chemical and petrochemical production equipment
Mining equipment
Power plants
ECA is a modular system, which can be used in different configurations:
The Cloud Monitoring system without local diagnostics and prognostics server. The raw signals are wirelessly transferred from monitored equipment to PSE Cloud server. The monitored reports are presented on PSE Information Site and are accessible by authorized users. The warnings are sent by eMails ans SMS.
The Cloud Monitoring System with data processing performed on the local diagnostics and prognostics Server incorporated into LAN. The reports are produced on the PSE Cloud Server and are visible on the user work stations. The warnings are sent by eMails ans SMS.
Portable Cloud Monitoring system targeted to prolonged inspections of customer equipment.
The Smart Wireless Current, Voltage, Phase Angle, Vibration and other sensors could be moved from  one piece of equipment to another. The data processing is provided by a laptop connected to Diagnostics & prognostics center.
As opposed to manual vibration analysers it could continuously retrieve the diagnostics information and be remotely supported.
OEM version of Cloud Monitoring System with data acquisition instrumentation embedded into OEM control equipment where data processing is performed on OEM and/or PSE remote Diagnostics Prognostics Server.
 System benefits
ECA is much more than a monitoring system. It substantially prolongs the life cycle of the plant equipment and reduces the maintenance expenditures.
Based on a proprietary  equipment  condition diagnostics technology utilizing diversified data acquisition  and advanced signal processing of ECA revolutionizes Plant Asset Management by;
Elimination of unexpected shutdowns;
Detection of minor disturbances in health and performance of monitored equipment, which substantially reduces expenditures for corrective maintenance.
Automated evaluation of failure root causes.
Prediction of the residual life cycle of monitored machinery that supports optimal planning of maintenance logistics
Enables the Predictive Maintenance of equipment where the maintenance is performed only when it is really needed.
ECA saves up to 20-30% of maintenance expenditures.
Emergency shutdown of monitored equipment.